A Welcome From Papasan
---
---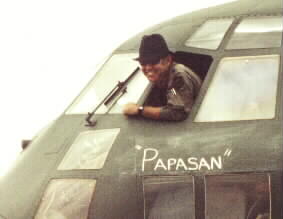 ---
---
Stray Goose International (SGI) is an organization bringing together those who served in Combat Talon units in the Pacific Theater over the past 5+ decades. Beginning in 1966 with the original Stray Goose deployment from Pope AFB to CCK and through the years, thousands have been "Stray Geese".
Six previous squadron commanders formed SGI at Hurlburt in late 1993: Bob Pinard (71-75), Ray Turczynski (79-81), Terry Jahnke (85-87), T. J. Doherty (87-89), Terry Silvester (89-90), and me (83-85). Today the organization is governed by a body of 12 board members, made up of command, aircrew, and support personnel, all of whom serve voluntarily for the benefit of the membership.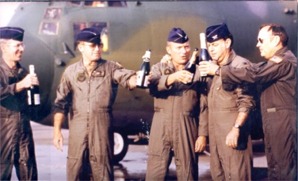 The "Short Blue Line"
Five of the founding fathers
Stray Geese Sly, TJ, Toad, Papasan, and Ray T.
All are former 1st SOS Commanders. The photo was taken following Ray T's last MC-130 flight, Clark AB, RP on April 18, 1989.
Our goal is to connect all aircrews, maintenance, CCT, and support personnel who were part of a Pacific Combat Talon/MC-130 unit, whether stationed at CCK, Nha Trang, Kadena, or Clark ('Heavy Chain' personnel included). We maintain a roster with over 1500 names, about 25% of which have current contact information. Our purpose is to help old friends re-acquaint and catch up with what's happened over the years. Unfortunately, there aren't contacts for everybody, but the word is being passed - we add new names and contacts as we get them.
Membership is open to those who are/have been assigned to a Pacific-based Combat Talon/MC-130 unit during their Air Force service. Those who served in a direct supporting role (e.g., Maintenance, CCT, Aerial Delivery, etc.) are also eligible for membership. Additionally, we offer Associate membership for those who do not meet the regular membership criteria but are supportive of the organization and special operations in general. If interested in joining, simply notify me or fill out the online membership application (once it is back up and running - in the interim, just send us an email with the required information within it).
We meet in the Hurlburt Field area once each quarter (2nd weekend in January, April, and July), with our annual reunion held over the Columbus Day weekend in October. All our events are held in a casual setting with short business meetings. Look for details of recent activities and upcoming events via e-mail messages, Facebook postings, or in the Hot News section of our internet home page StrayGoose.org.
The organization maintains a modest treasury maintained by member contributions and occasional fund-raising activities. At the end of each fiscal year, after all operating expenses are accounted for, the Board of Directors meets to distribute remaining funds to a selected military/veteran service charity.
SGI has gained wide recognition and enthusiastic support. The heritage of Combat Talon/MC-130 in the Pacific is strong -- the legends of Maynard the Duck, Big Red, and the hundreds of stories of camaraderie, heroism, and service to our country are all worth sharing and saving. The organization is well known throughout the special operations community as a group that can be counted on to preserve AF and joint special operations history, goals, and ideals.
For more information on SGI, our heritage, news, and upcoming events, visit our website (StrayGoose.org) or the Stray Goose International Facebook page. For database changes, notify our webmaster and database manager, "Goose TJ" Doherty, at TJ@StrayGoose.org. Our 'snail mail' address is SGI, PO Box 881, Shalimar, FL 32579.
Hope to see you at our next event! In the meantime, keep us updated with any contact changes and/or your "Hot News".
Sincerely,
Lee Hess ("Papasan/Goose 38/Goose 1, #15")
Contacts: (850) 240-0707 or Papasan@mc130.com
---
---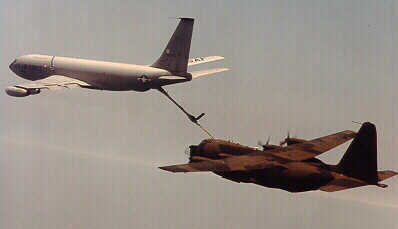 ---
---